Earlier today, our school put out an alert concerning a social media post that had been circulating within our school community. At this time I would like to thank our own school resource officers, the Muldrow Police Department, the Sequoyah County Sheriff's department, and OHP. They have worked diligently to ensure our safety, while working to locate the origin of this threat. During this investigation, these entities along with OSBI, the Oklahoma Counter Terrorism Intelligence Center, the Fusion Center, and the use of facial recognition software, were able to locate the source of this threat and found a suspect in North Carolina. As we enter the summer months, please use this time to visit with your children about the danger of communicating on social media with people that they do not know. As always, the safety of our students is the most important thing that we do. Thank you for working with us to provide the very best opportunities for all of our students. Clifta Fugett, Superintendent

We were made aware this morning of a social media post that has been circulating in different communities that contained language of school violence. While the threat does not come from a Muldrow student, many Muldrow students have seen this post and have been alarmed. Though this threat is not directly connected to Muldrow Schools, extra police presence will be on campuses as precautionary measures.

Due to the threat of rain, the MES Bulldoggies performance for the National Day of Prayer service has been moved to East Side Freewill Baptist Church at Noon today.

Sign up for Summer PAWS!

MES PK would like to send a huge THANK YOU to the Cherokee Nation and Daryl Legg for the new playground equipment!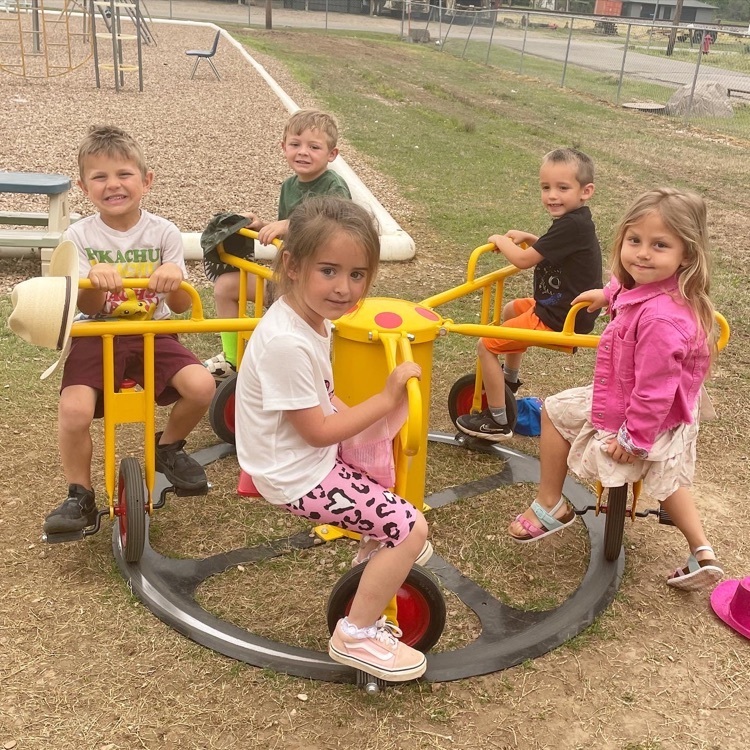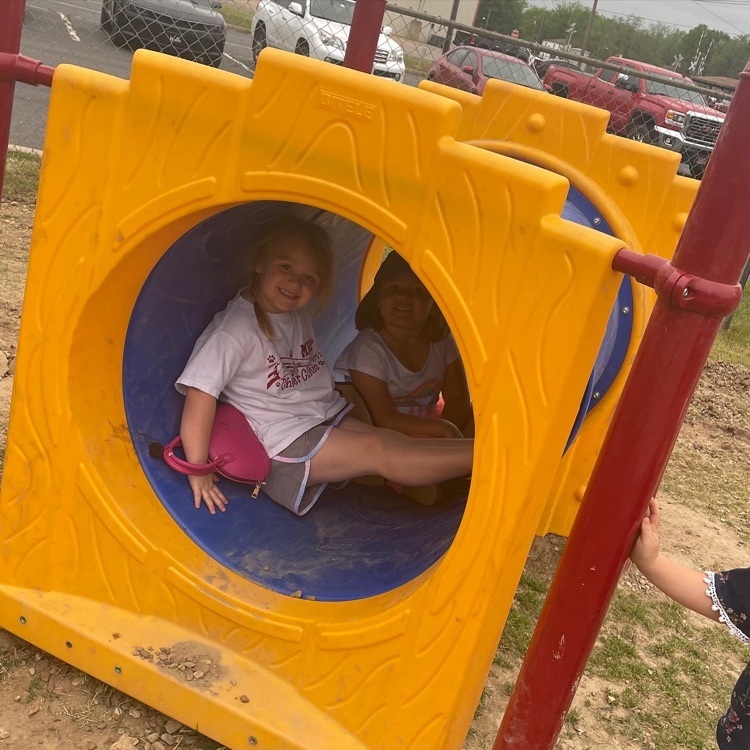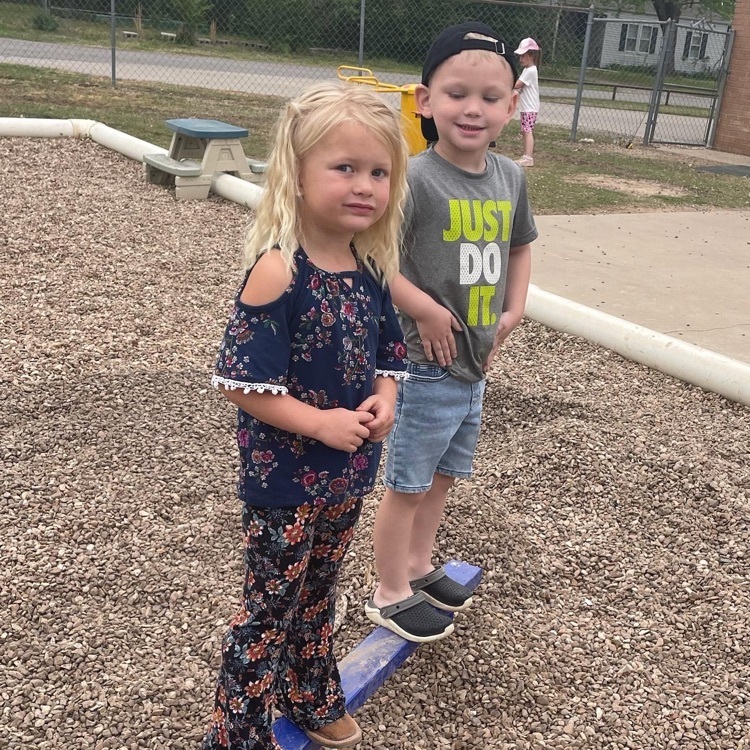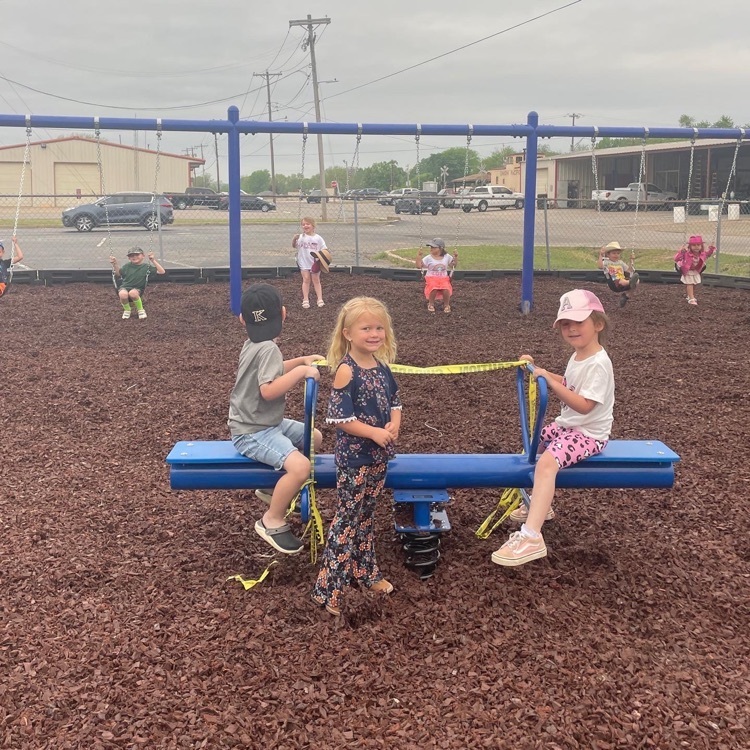 Muldrow Public School sends condolences to the family of Brisa Olivas-Rojas. Brisa, a member of the Junior Class at Muldrow High School, passed away unexpectedly this morning. Please keep this family, Brisa's friends, our students, and our staff in your thoughts and prayers through this very difficult time. Counselors will be available for students and staff when school resumes on Monday.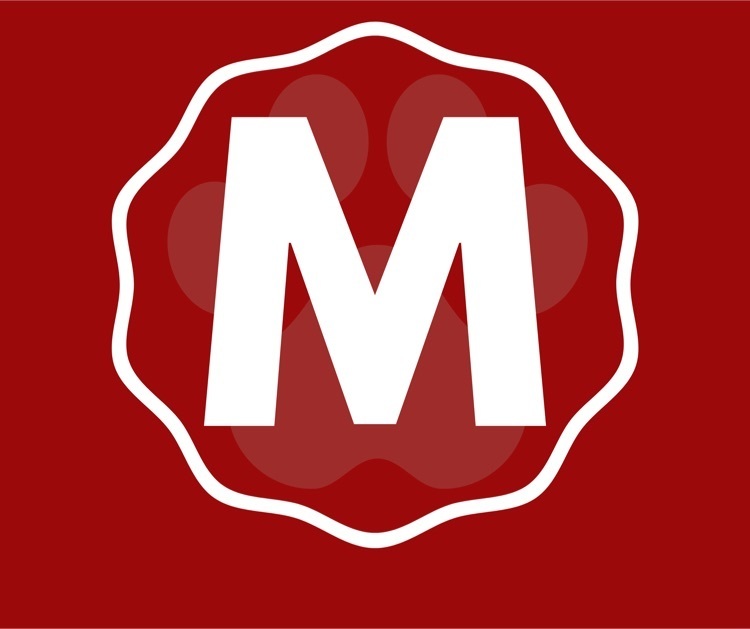 Apply online!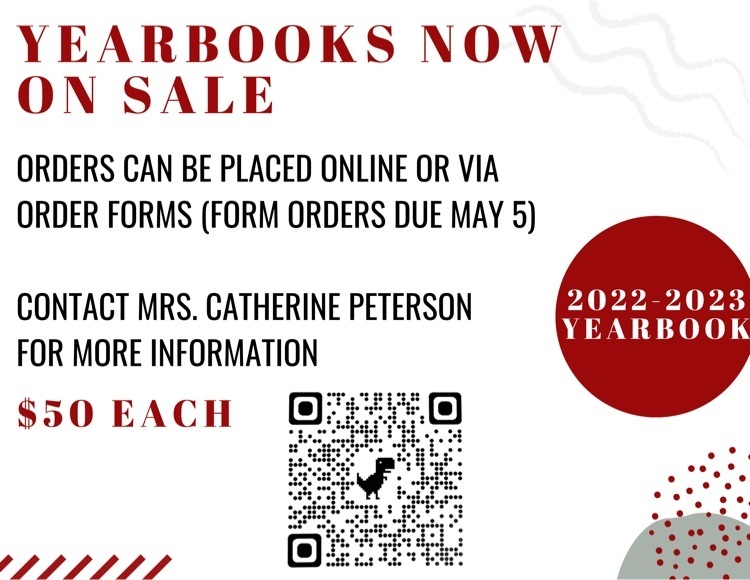 Today's baseball game at Spiro has been moved to 4 PM!

Join the Bulldog Family! Muldrow Public Schools is now accepting applications for the following positions: Special Education, Elementary Teacher, Drivers Education, Counselor, Elementary Music, and Secretary. Apply online at muldrowps.org!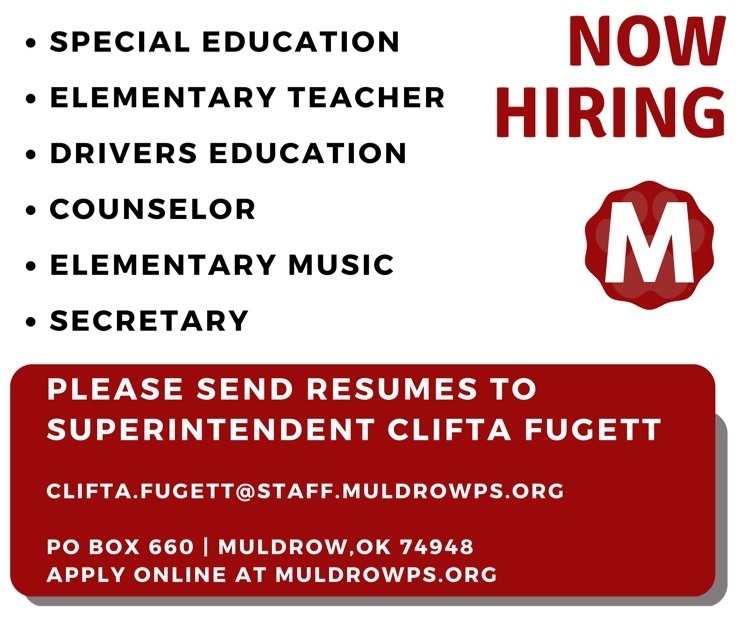 Today's baseball game has been CANCELED.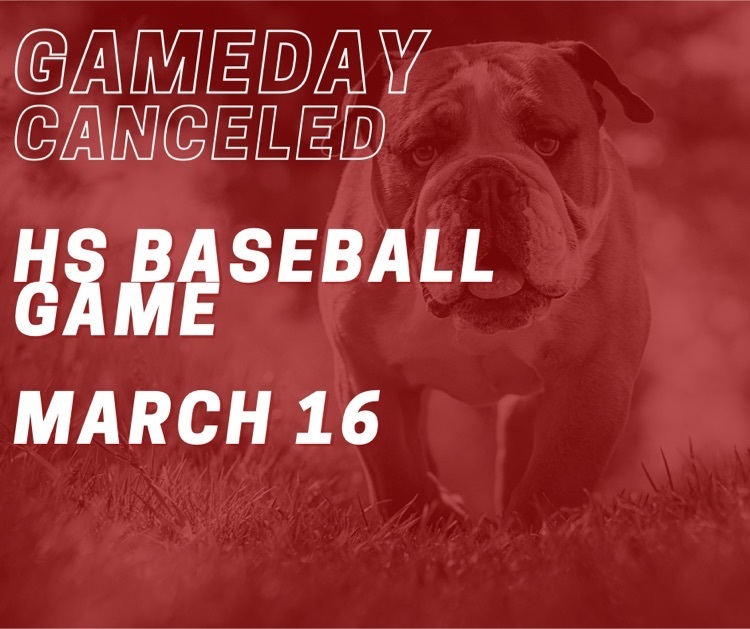 Congratulations to Hayden Boyett and David Frias for making it to STATE in Powerlifting! Hayden also placed 4th in his class! CONGRATULATIONS!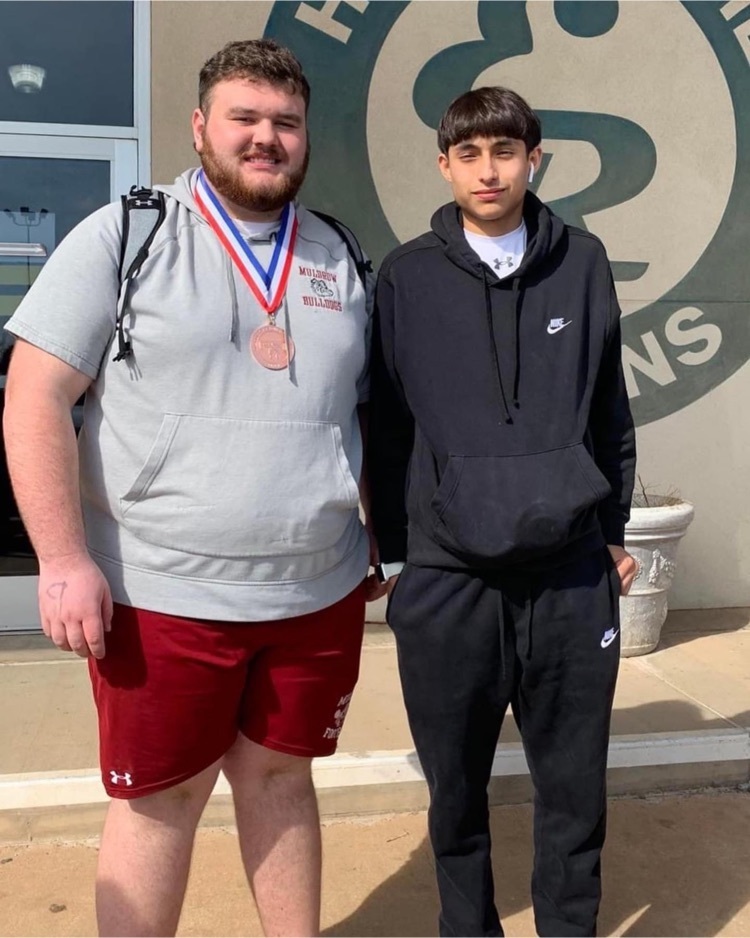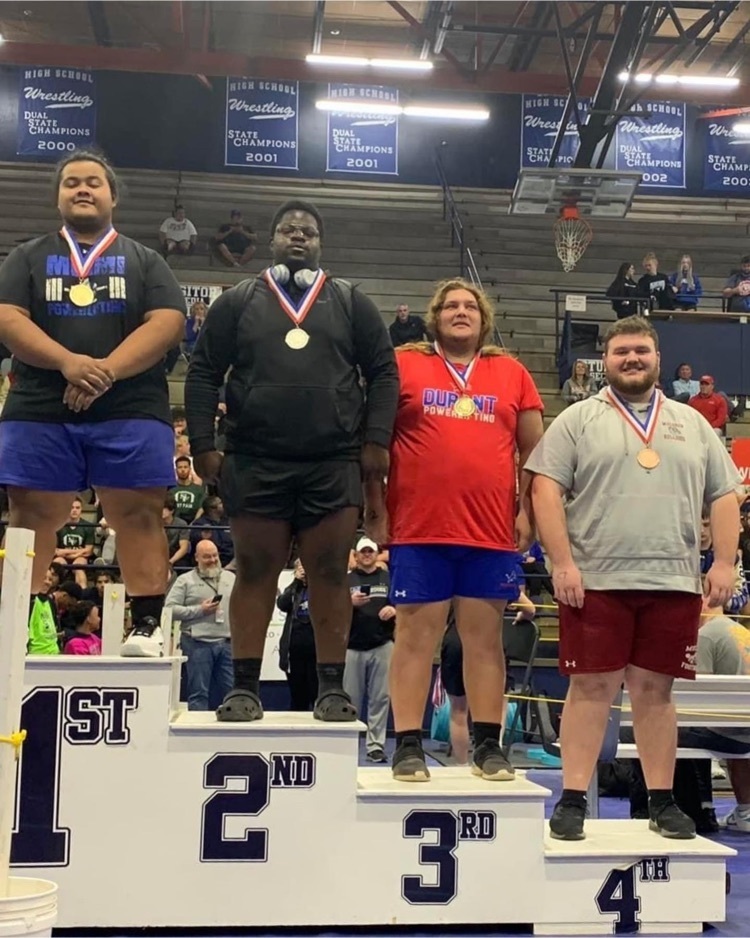 Today's HS baseball game has been CANCELED.

Just a reminder: there will be NO SCHOOL NEXT WEEK for Spring Break! Enjoy your time off!

Congratulations to MHS Senior Jaci Walker for being named to Oklahoma Foundation for Excellence's Academic All-State!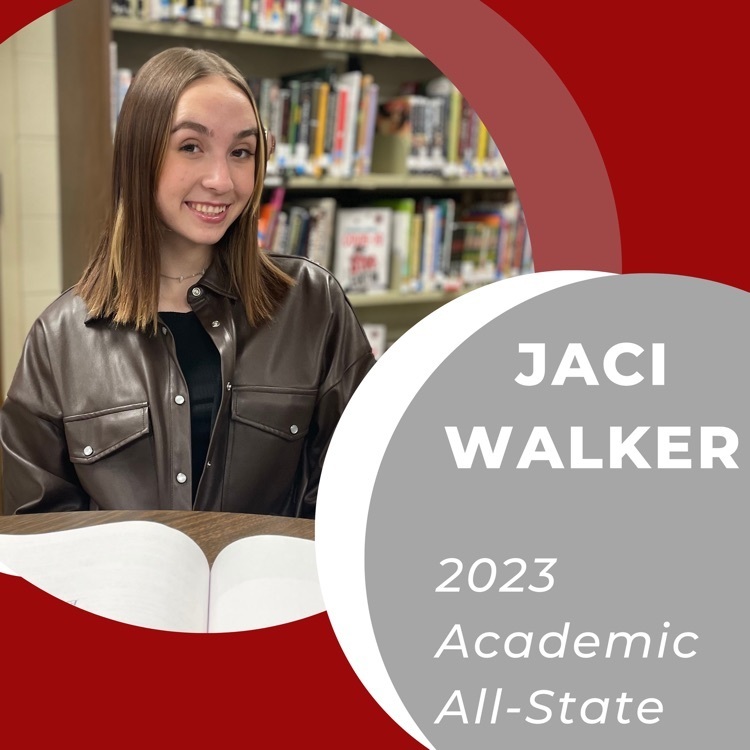 Congratulations to these student athletes for medaling at the McAlester powerlifting meet and for many others setting PR's!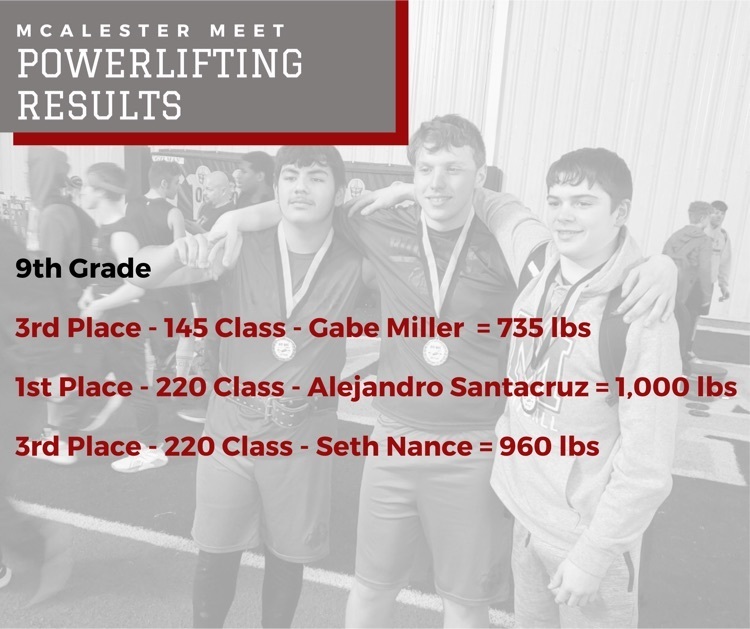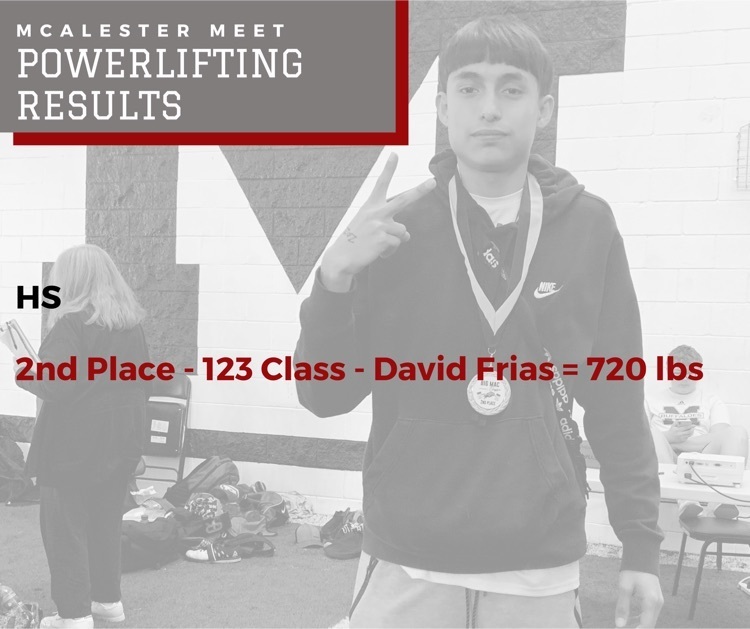 Join us TONIGHT for a parent information night regarding Oklahoma's Promise, ICTC, concurrent enrollment and more. If you have any questions, please contact Counselor Renee Claborn.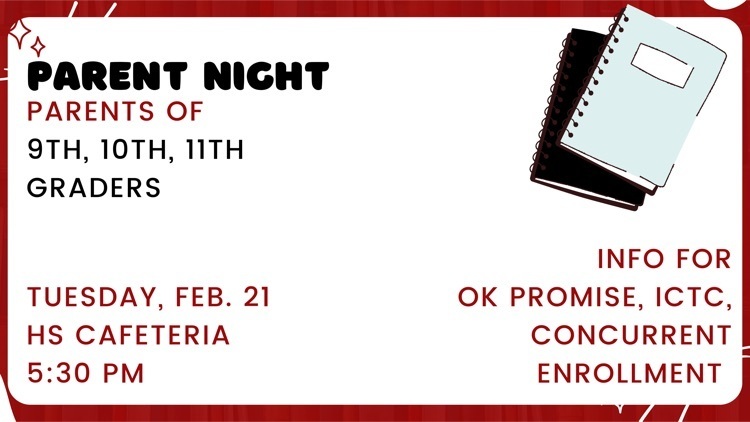 We will not be in school on Monday, February 20 in observance of Presidents Day. Have a great three-day weekend!